Mitt inlägg om kjollängd igår gav rätt ordentligt gensvar. Jag blir glad för era tankar om mina åsikter så om det är något ni funderar över så skriv gärna en kommentar! Om ni inte vill skriva offentligt så kan ni skicka ett privatmeddelande till mig på min facebooksida eller skicka ett mejl på recreatinghistory[at]gmail.com

My post on skirt lenght yesterday gave quite the response. I'm happy to recieve your thoughts on my opinions so don't hesitate to comment! If you don't want to comment publicly then send me a private message on my facebook page or send me an email at recreatinghistory[at]gmail.com
Pearls for decoration
När jag köpte silket till kantväven på min bärnstensklänning så räknade jag ganska högt på hur mycket jag behövde. Det ledde till att jag hade rätt mycket silke över att göra andra saker med. Det första som slog mig att jag kunde göra var en filet, eller ett hårband. Ett sånt som nämns i Textiles and Clothing, ett sånt som Elina på Neulakko så fint har återskapat. Efter att ha läst på lite om originalet från London så insåg jag att mitt silke skulle bli nästan perfekt att väva med
When buying silk for the edgeweaving on my amber dress I overestimated the amount needed quite bad. That lead to me having lots of silk left to do other things with. My direct thought fell on the filet mentioned in Textiles and Clothing and the beautiful reproduction made by Elina at Neulakko. After reading up on it I realised that the silk I had would be almost perfect for the job.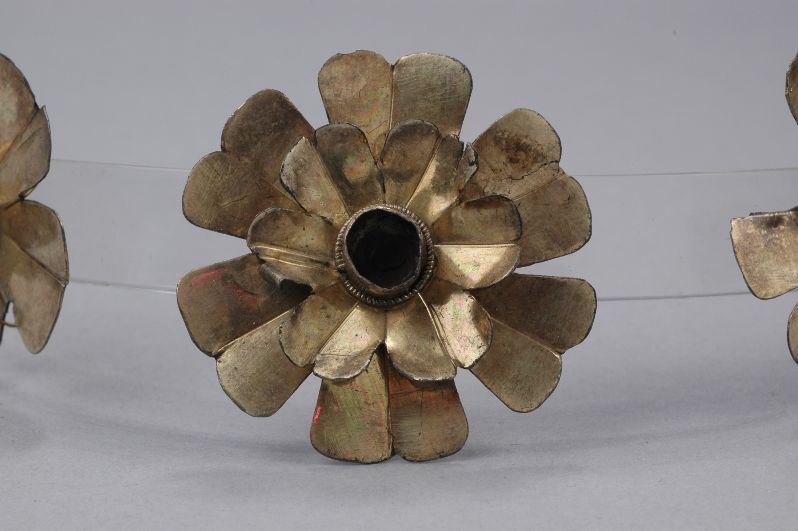 Silver flowers for a circlet. Dated "medieval", Badeboda, Sweden. SHM 8285:14
Dessa hårband verkar framförallt vara ett mode från första halvan av 1300-talet. Artefakten i Textiles and Clothing är daterad till just första halvan av 1300-talet och tittar man i tidiga manuskript så ser man dem lite här och var.
The fillet with embellishments seem to be mainly a fashion seen in the first half and mid part of the 14th century. The piece in Textiles and Clothing is dated to the first half of the 14th century. Looking through manuscripts you find it in various early illuminations.
Three ladies from the Luttrell Psalter (Add MS 42130, 1325-1340)
From left: 
A Book of Hours
 (14th century), Roman de la Rose (MS 1126-1127, 1325-1375), Parfait du Pain (BNF Fr. 12565, mid 14th-century)
Man hittar hårbandet i konst från senare delen av 1300-talet med, både på gravhällar och i manuskript. Här förekommer odekorerade hårband något oftare.
In the later half of the 14th century there are some effigies with different hairpieces and you do find the filet in manuscripts as well. Undecorated filets seems to be a bit more common in the later half.
Margaret Zouch, second wife of Robert Willoughby. Dated 1391. The left one is a drawing of the original piece.
From left: Fais et dis mémorables des romains (BNF Ms. fr. 9749, 1376), Roman de la Rose (Date d'édition : 1395-1405), Manuscript BLB Donaueschingen 79 Weltchronic (1365), Grandes Heures de Jean de Berry (1400-1410)
Jag följde instruktionerna i Textiles and Clothing och använde 26 brickor och mitt silke är tvinnat, precis som i originalet. De yttersta två brickorna på varje sida träddes i fyra hål medan de 22 brickorna i mitten bara träddes i två hål. Totalt var det 60 trådar i väven. Sen var det dags att väva. Det tog väldigt lång tid, men det är framförallt för att jag ville att bandet skulle bli perfekt. Jag har valt att inte fodra det på baksidan – bandet är så pass stabilt i sig själv.
I followed the detalied instructions in Textiles and clothing and used 26 tablets, and I've used a plied yarn as in the London piece. The outer two tablets on each side were threaded in all four holes and the middle 22 were threaded in only two holes. In total that is 60 threads. Then it came to the weaving. It was very slow, but that was because I wanted it to be perfect. I've chosen not to line it since it's stable on its own. 
Close-up on the 1 cm wide band. 
När jag var färdig behövde jag bestämma vad jag skulle göra med det. Det finns flera avbildningar som visar dekorerade hårband och några som visar helt odekorerade sådana. Londonfyndet visar spår av att något har varit fastsytt på det. Jag funderade ett tag på hur jag skulle göra – mitt band är väldigt fint på egen hand, men jag kände att jag ville göra något mer. Det slutade med att jag sydde på några sötvattenpärlor. Inte för mycket, men inte för lite heller. Det är enkelt att ändra på om jag vill med, jag funderar på att beställa några fina saker och sy fast senare.
When I was finished I had to decide what to do with it. There are several illuminations showing embellished filets and some showing simple ones as well. The London piece has traces of sewing on it, it once was decorated and I gave it some proper thought. Even though my piece is beautiful on its own I finally decided to sew on some pearls. Not to much, but not to little either. It's easy to change as well if I want to – I might order some other decoration for it later.
The decorated filet
Hårbandet är 1 cm brett och väven är 57 cm lång exklusive flätorna. På det hela taget är det ett mycket fint hårband som jag är väldigt glad för.
The filet is 1 cm wide and the woven part is 57 cm long withouth the ending braids. At the end it's a very nice filet which I'm very happy for. 


Wearing it with braids
Wearing it with a frilled veil
A close-up. The lovely hairpins are made by Lisa Hjelmqvist
Nu kan jag bocka av ytterligare en grej på min lista med saker att göra.
Now I can check this of my list of things to do.